Welcome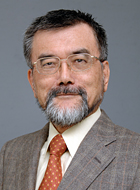 Congress President
Kunitoshi Iseki
Director and Clinical Professor;
Dialysis Unit, University Hospital of the Ryukyus
On behalf of the International Society on Uremia Research and Toxicity (ISURT) and Okinawa Dialysis and Transplant Association (ODTA), it is our privilege and pleasure to invite you to visit Okinawa, Japan, and attend the 8th International Congress on Uremia Research and Toxicity, March 13 to 15, 2014.
The purpose of this society shall be to advance the knowledge on uremia research and toxicity and to foster communication of the advancements of this knowledge by means of scientific meetings and cooperation with other scientific societies of nephrology and so on.
Preparations are going on to offer you an interesting scientific program including state-of-the-art lectures by the eminent speakers from all over the world. However, the success of our meeting will still depend on your presence and active participation.
We hope that this congress will give you new insights into the understanding and therapeutic strategy of chronic kidney disease (CKD), especially uremia, and will be a good occasion for promoting and renewing friendship.
At ICURT2014, we will make every effort to support the Scientific Program Committee ISHD to compile exciting, cutting-edge programs, including high quality of Japanese researchers in nephrology and related fields. Translational medicine will be emphasized in each session mixing basic science, clinical pharmacology and health care delivery. It would undoubtedly strengthen our ties with ICURT, provide an excellent source of information, inspiration, and motivation for young scholars, dietician, and other health-care workers, in particular Asian region and so contribute to the further globalization of ISURT.
We look forward to welcoming you in Okinawa!