"Evolution and Deepening of Diabetology

- Harmony of Science and Humanity -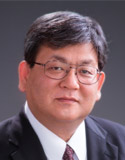 Yukio Tanizawa, MD, PhD
President of the 58th Annual Meeting of the Japan Diabetes Society
Professor of Medicine
Yamaguchi University Graduate School of Medicine, Division of Endocrinology, Metabolism, Hematological Science and Therapeutics (Department of Internal Medicine (III))
On behalf of the Japan Diabetes Society, I cordially invite all of you to the 58th Annual Meeting of the Japan Diabetes Society scheduled from May 21st (Thu) to 24th (Sun) 2015 in the city of Shimonoseki, Japan as well as at Moji area just across the Kanmon Channel. Shimonoseki, locates southwestern tip of the Honshu, main island of Japan, and is a romantic city with beautiful Kanmon Channel between Honshu and Kyushu, two main islands Japan. The area has many historical sites that played important roles in the Meiji Restoration of Japan, and many tourist spots such as the Kanmon Bridge over the Kanmon Channel, an aquariums and the historic castle town of Chofu.
Since the discovery of insulin in 1921, diabetes research has been always at the cutting edge of the scientific research, and significant contributions has been made in the field of medicine. At the same time, there is a very human side to medical care for diabetes; patients and doctors form a bond and work as a team through which therapies and treatments advance. The main theme of this meeting, "Evolution and Deepening of Diabetology - Harmony of Science and Humanity -" represents all of this, and my wish for the further advancement of diabetology.
Based on this theme, the program includes a number of special lectures, symposia, debate sessions, oral, and poster presentations covering both the basic and clinical aspects of diabetology. I will welcome more than 12,000 domestic diabetes care professionals, many oversee guests from US, Europe, and Asia, including Professor Philippe Froguel of the Imperial College London, Professor Ralph DeFronzo of the University of Texas, as well as Professor Samuel Dagogo-Jack of the University of Tennessee and President-elect of the ADA, Medicine and Science. In conjunction with the Japan Diabetes Society Meeting, the 2nd Japan-Korea Diabetes Forum and the 2nd Liver, Diabetes and Metabolism Forum will be held together.
Shimonoseki can be easily reached by airplane via Yamaguchi Ube, Kitakyushu and Fukuoka airports, and also by Shinkansen bullet train, via Kokura Station. We are looking forward to seeing all of you for the enthusiastic debate and discussion on the diabetes research and care in this very attractive area of Japan.